Live music DJ appearance Comifuro 4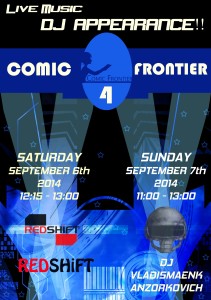 Live music appearance at Comic Frontier 4
Comic Frontier 4 akan menampilkan Live music dari dua DJ di hari yang berbeda, yaitu REDSHiFT di hari Sabtu dan DJ Vladismaenk Anzorkovich di hari Minggu. Live music akan dilaksanakan di aula GOR. Jangan lewatkan penampilan epic mereka, ya!
About the Artists: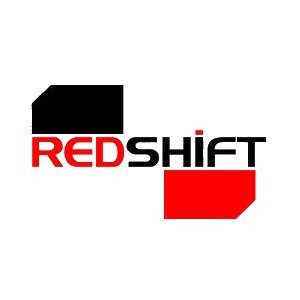 REDSHiFT adalah grup produser Vocaloid asal Indonesia yang beraliran Pop House dan Drum n Bass. Grup ini  mulai aktif sejak taun 2009 dan terdiri atas Music Composer, Vocaloid Tuner / Lyricist dan Illustrator.
Selain meremix lagu-lagu pop Indonesia dengan vocaloid, REDSHiFT juga membuat lagu-lagu original. Lagu karya REDSHiFT "Keep The Joy Loop Forever" bahkan dipilih menjadi themesong untuk event C:LASH 2013 yang lalu. Dalam penampilannya REDSHiFT biasa membawakan lagu electro house – electropop Vocaloid walau terkadang juga membawakan J-pop dan Anisong.
Tahun ini, REDSHiFT tergabung dalam crafTUNER (Comifuro 4 booth D-9). Bersama dengan aoWAVE, farhan, idoyklik, Mixtrelle, PG2125, Vamaera, dan Vesuvia, mereka telah merelease CD berjudul Re:TUNED yang berhasil sold out dalam hitungan jam pada penjualan perdananya di acara AFAiD 2014.
Setelah tampil sebagai guest artist di Acara Comifuro 3, kali ini REDSHiFT akan kembali tampil di Comifuro 4, pada hari Sabtu, tanggal 6 September 2014, dari pukul 12:15 sampai dengan pukul 13:00.
More about REDSHiFT Vocaloid Project
https://www.facebook.com/redshiftvocaloid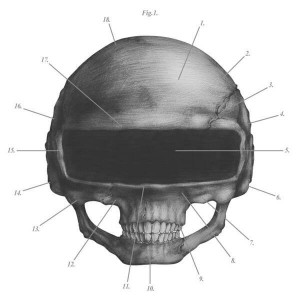 Vladismaenk Anzorkovich adalah seorang DJ asal Jakarta yang juga merupakan member dari Komunitas Pop Culture Universitas Indonesia, AKIPA! UI. Ia memulai debutnya pada bulan Februari 2013 di Fukuoka, Jepang, atas undangan dari DJ Takuya. Lagu yang ia mainkan saat debut di Jepang adalah remix AKB48 – RIVER dan Watanabe Mayu – Hikaru Monotachi.
DJ Vladismaenk juga terafiliasi dengan beberapa DJ di Jepang, seperti DJ Kazu, Akinyan Electro, DJ Shimamura, dan Toku Kard.
Setelah tampil sebagai Live music DJ pada Comifuro 3, kali ini DJ Vladsmaenk akan kembali tampil di Comifuro 4, pada hari Minggu, tanggal 4 September 2014, dari pukul 11:00 sampai dengan pukul 13:00.
More about Vladismaenk
https://www.facebook.com/OfficialVladimirAnzorkovich
Tweet